Try our Breath Pacer EZ-AIR PLUS!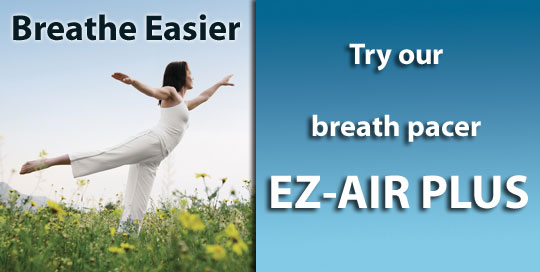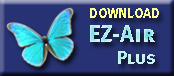 EZ-AIR PLUS is a Windows application that allows you to place a thin bargraph or linegraph anywhere on your screen to help you pace your inhalation and exhalation.
EZ-AIR PLUS provides options for sound, exercise mode, automatic pop-up exercise mode and the ability to set a starting Breath Rate, an Ending Rate and the Time to go from Starting to Ending Breath Rate. This feature gradually lowers breath rate to the ideal slower rate.
The default rate is 6 bpm, but users can select the rate they are comfortable with and gradually train downward. The program can run continuously, or can be set to run at specified intervals/durations as a reminder to take a moment to relax during a busy workday.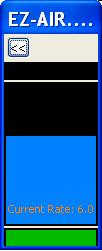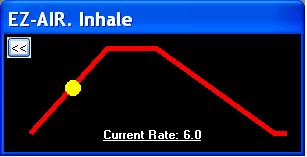 EZ-AIR PLUS can be used with other software to add respiration pacing to a program (for example, the BioGraph Infiniti software from Thought Technology Ltd).
You can run the program free for 30 days as a trial version. Click on "Download "EZ-Air Plus" to download the software.
After that, the program can be bought for only USD $19.95.
Simply click on "File" and "Buy EZ-Air" from within the sofware.
Note: EZ-AIR PLUS is a completely new and revised version of previous (free) E-Z Air.