Neuronus – 2nd International Conference on Neuroscience and Rehabilitation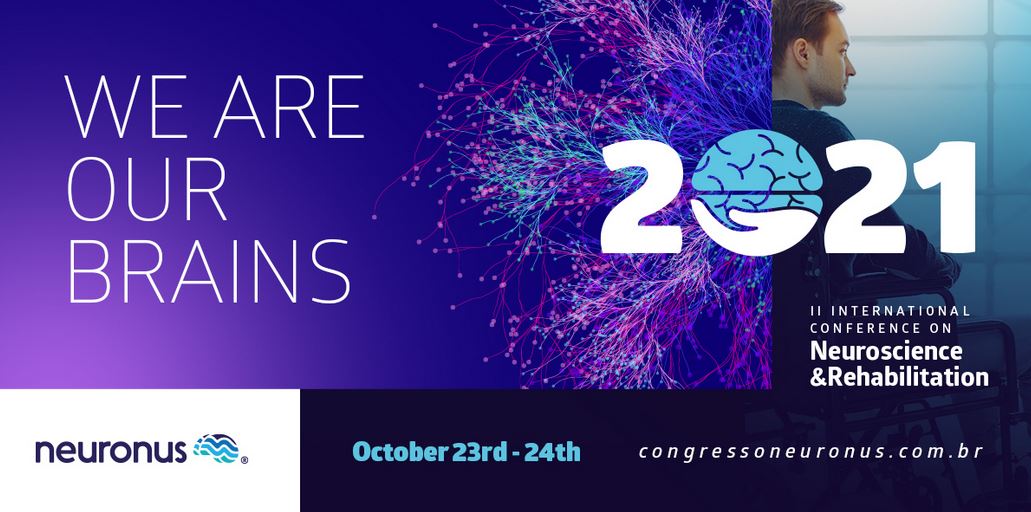 Thank you to everyone who attended the conference and workshops. This event is now closed.
The Biofeedback Federation of Europe is proud to sponsor the Neuronus – 2nd International Conference on Neuroscience and Rehabilitation taking place October 23-24, 2021 and pre-conference workshops with Dr. Erik Peper and Dr. Paul Swingle on the weekend of October 16-17. The 2-day online event features presenters from multiple disciplines who will discuss the latest advances in neuroscience and rehabilitation processes. The event will be fully translated from English to Portuguese and Portuguese to English. Pre-conference workshops require separate registration (details below).
Click here to view full conference details.
Click here to register through the BFE
Cost to register: $299.00 USD
"At the 2nd International Congress on Neuroscience and Rehabilitation we want to promote a rich discussion on how research and development in neuroscience has improved the accuracy of diagnostic and treatment tools, enhancing results and making clinical care increasingly personalized and focused on quality of life of patients in functional, neuropsychological and social rehabilitation."
This years lineup includes:
ANTÔNIO MARTINS MOURÃO –

London Scientific – United Kingdom

DIANA MARTINEZ –

Boston NeuroDynamics – United States

ERIK PEPER –

San Francisco State University – United States

LYNDA THOMPSON –

ADD Centre – Canada

PAUL G. SWINGLE –

Swingle Clinic – Canada

SANTIAGO BRAND –

The MindLab – Singapur
Click here to view all the presenters.
About Neuronus

  Located in Brazil, Neuronus is a transdisciplinary brain teaching and research institute whose work is  based on principles from different areas, ranging from biology, biophysics, neurophysiology, computational science, engineering, psychology, pedagogy to the study of behavior and cognition in neuropsychology. Their goal is to research and offer tools that can equip professionals and researchers to debate and, thus, envision new perspectives of improvement in the provision of services to society, whether in the area of ​​health, education, corporate environments, among others.
Pre-Conference Workshops
A BREATH OF FRESH AIR: Breathing and posture to optimize health with biofeedback training
Presenter: Erik Peper, Ph.D.
Date: Saturday, October 16, 2021
Time: 10am – 2pm EST (16:00-20:00 Western Europe)
Location: Online
Language: English, with simultaneous translation to Portuguese
Click here for details and registration.
Cost: $150.00 USD
ADDING NEUROTHERAPY TO YOUR PRACTICE: Basic Neurotherapy, ClinicalQ and Braindriving
Presenter: Paul G. Swingle, Ph.D.
Date: Saturday, October 16, 2021
Time: 2:30 – 6:30pm EST (20:30-00:30 Western Europe)
Location: Online
Language: English, with simultaneous translation to Portuguese
Click here for details and registration.
Cost: $150.00 USD