Tech Stress – Now Available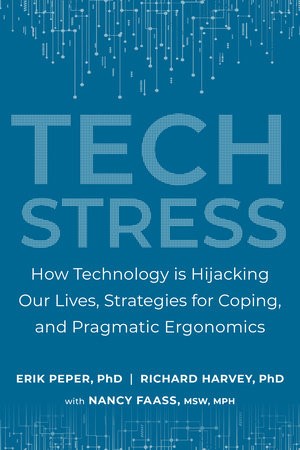 Dr. Erik Peper's new book "Tech Stress: How Technology is Hijacking Our Lives, Strategies for Coping, and Pragmatic Ergonomics" co-written with Richard Harvey Ph.D., Nancy Faass MSW MPH is now available!
"An evolutionary approach to re-envisioning our relationship with technology–and reclaiming health, happiness, and sanity in a plugged-in world."
We are living in a hyper-connected world that provides enormous benefits to our daily lives, but there are consequences to our constant connectivity. In his latest book, Dr. Peper introduces the concept of "tech stress", the effect it has on the body, and how to lessen its negative impact.
The recent shift in work has people sitting more at the computer, trapped in seemingly endless online meetings/Zoom calls, or just looking at a screen without breaks. Leisure time often includes screen time even if we are unwinding with a movie (on our tablet) or scrolling social media feeds on our ever-present smartphone.
Over exposure to the technology we depend on can cause fatigue eyestrain, back pain, neck and shoulder discomfort, exhaustion, distraction, stress, negative mood, depression, and insomnia. In his presentation, Dr. Peper will explore the factors that contribute to these irritations and explain why so many people still experience discomfort even after their office or home equipment (chair, desk, monitor) have been ergonomically optimized. Finally, he will provide biofeedback-based strategies that clinicians/educators can use on themselves and clients to prevent illness and optimize health at work and at home, especially while working in a digital environment.
__________________________________________________________________________________
Dr. Peper shares a wealth of information on various applications of biofeedback in his blog, "the peper perspective." In a recent post, he provides many tips on things  individuals can do to minimize the challenges of working from home. Among them are scheduling mini breaks throughout the day, minimizing eye fatigue, practicing diaphragmatic breathing and optimizing arrangement of the home office setup. Read the full post "Reduce TechStress at Home" here.
Other recent posts on COVID-19 include:
Reduce initial dose of the virus and optimize your immune system
Can changing your breathing pattern reduce coronavirus exposure?
While you're there, be sure to subscribe and receive notifications of new posts by email.