There's More You Can Do with the ClinicalQ
We are pleased to announce the new ClinicalQ Report Writer website!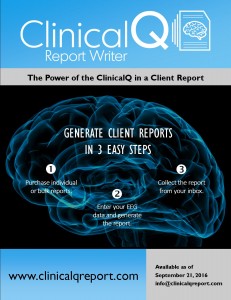 The website answers the demand from users of the ClinicalQ and Braindriving method for a client report that explains the ClinicalQ Assessment. Developed in collaboration with Dr. Paul G. Swingle, the ClinicalQ Report Writer website allows you to…
Generate client reports in three easy steps:
1 – Purchase individual or bulk reports.
2 – Enter your EEG data and generate the report.
3 – Collect the report from your inbox.
It's simple, fast, accurate and affordable.
Who can use the ClinicalQ Report Writer website?
The site will benefit all users of Dr. Swingle's method, regardless of equipment platform. The data required for the report is based on the ClinicalQ and Braindriving method as described in Dr. Swingle's book Adding Neurotherapy to Your Practice (Springer) updated in 2015.
ClinicalQ Report Writer Information Session
Date: November 9, 2017
Time: 12.00-1:00 pm (Eastern time US & Canada)
On November 9th, we will be hosting an information session on the new website. To coincide with the launch of the ClinicalQ Report Writer, we've updated the BFE ClinicalQ and BrainDryvr software suite and will also demonstrate the new features of the software. All registered users of the suite will be receiving the free update in the coming months. The is no cost to attend this information session, but you must register in advance. Click here to register.
Share Our Posts
Share this post through social bookmarks.